We gratefully accept donations as the storm isn't quite over yet
While many of us will emerge on the other side of this pandemic strong, many of our neighbors will be struggling in unexpected ways.
Some job losses will become permanent. Some communities have been harder hit. And with an extended recovery period ahead, food insecurity is a storm we'll be weathering for a long time.
The Columbia Valley Food Bank is supported primarily by cash and food donations from individuals, visitors, community organizations, churches, service clubs, and businesses in the Valley.
Your generosity is what has enabled the Food Bank to continue to provide its service to people in the community whose circumstances dictate the need for additional support to improve their quality of life.
With so many neighbors still experiencing food insecurity, it's critical that we keep up the momentum.  Please take this moment to make your donation now.
Thank you once again for helping the CVFB weather the storm. We're so grateful for your generosity, and hope you'll continue to make healthy food available to those in need.
Donate Financially
We offer 3 easy ways to make a FINANCIAL DONATION to the Columbia Valley Food Bank.
1)  Etransfers – please direct your eTransfer to  donationscvfb@shaw.ca
2)  Mail in a cheque to:
Columbia Valley Food Bank
PO Box 2141, Invermere, BC  V0A 1K0
3)  Make a donation online via Canada Helps.
COLUMBIA VALLEY FOOD BANK DONORS; WHO ARE THEY?
The CVFB was most grateful to receive a donation from the Albert Cooper estate a number of years ago, and in recognition of his generosity, the building was named for him.
Since then, we have been honored to receive other large donations from foundations and trusts, individuals and organizations that helped us finance our new facility.  However, by far, the largest portions of our yearly operational budget is funded by our donors.
So who are these donors, and why do they feel that it is important for them to support our activities?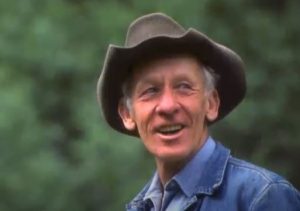 ALBERT COOPER
1924-2012
The current location of the CVFB is new to us.  The building was built in 2020 and all because of this generous donor.
ALBERT COOPER
This building is named after Albert (1924-2012), born and raised in the Columbia Valley.  He was an outfitter, outdoorsman, rancher, and friend to many.  His zest for life lead to a dedication to the people and wildlife of the valley.  Albert volunteered his time to a number of local causes and programs.
A substantial bequest from his estate allowed the Columbia Valley Food Bank to dream of constructing this facility to better serve the needs of Valley residents for years to come.